Unity Housing is working with Buildtec Group to relocate and consolidate its metropolitan offices into a single new purpose-built site in Bowden. The new office will be a significant part of the redevelopment precinct at Bowden – the state government's first higher density urban infill project located 2.5 kilometres from the Adelaide CBD.
The Bowden precinct has set new standards in urban renewal, creating a vibrant living and working area, with many nearby amenities from transport to shopping.
The new office provides Unity Housing the opportunity to significantly improve the workplace environment for its metropolitan office-based staff while bringing together five offices – currently located in Brighton, Elizabeth South, Gilles Street Adelaide, Norwood and Port Adelaide.
The move will also create administrative and operational efficiencies, and streamline corporate support, while uniting much of Unity Housing's workforce under one roof.
The new office will also provide Unity Housing the opportunity to respond to the Sustainable Development Goals (SDG), in relation to creating an environmentally-friendly and sustainable building, incorporating modern technologies. The building and location reflects the feedback collected via an all-staff survey undertaken during the planning process in 2019.
The new office will be two storey – covering the ground, first and second floors – and incorporate an entry foyer, car parking (with bike storage), plus provision for two retail/commercial outlets on the ground floor.
Work on the site is scheduled to commence in May 2022 with an estimated move in date of April 2023.
Speaking about the office announcement, Unity Housing CEO Matthew Woodward, said: "We are excited to be able to make this announcement. We had a clear set of criteria in place, defined in collaboration with our staff and influenced by our desire to create an efficient, modern, and sustainable working environment. Those criteria have been met in partnership with the Buildtec Group in the Bowden development and we're looking forward to seeing it come to fruition. The new office is also aligned with our own values, being rooted in the community and delivering a long-term, sustainable working environment for our staff."
In further news, Unity Housing has also announced an agreement with Apex Energy Australia Pty Ltd (Apex) to install Solar Photo Voltaic (PV) panels on 53 newbuilds and retro fit 20 existing properties under the company's management. The agreement means that every new residential property brought on to the market by Unity Housing will now have solar power capacity.
The collaboration with Apex will enable Unity Housing to provide real energy cost savings to tenants while making a meaningful and tangible contribution to SDG7 (affordable and clean energy) and SDG11 (sustainable cities and communities). Once implemented, the initial solar roll-out will offset approximately 180 tonnes of carbon per year.
Commenting on the solar PV program, Mr Woodward said: "The agreement with Apex is an important next milestone on Unity Housing's goal of delivering housing outcomes which are not only affordable but also sustainable. By installing solar panels on every new residential property we develop, we are enabling low income residents to reduce their energy costs and be part of our community's transition to net-zero emissions."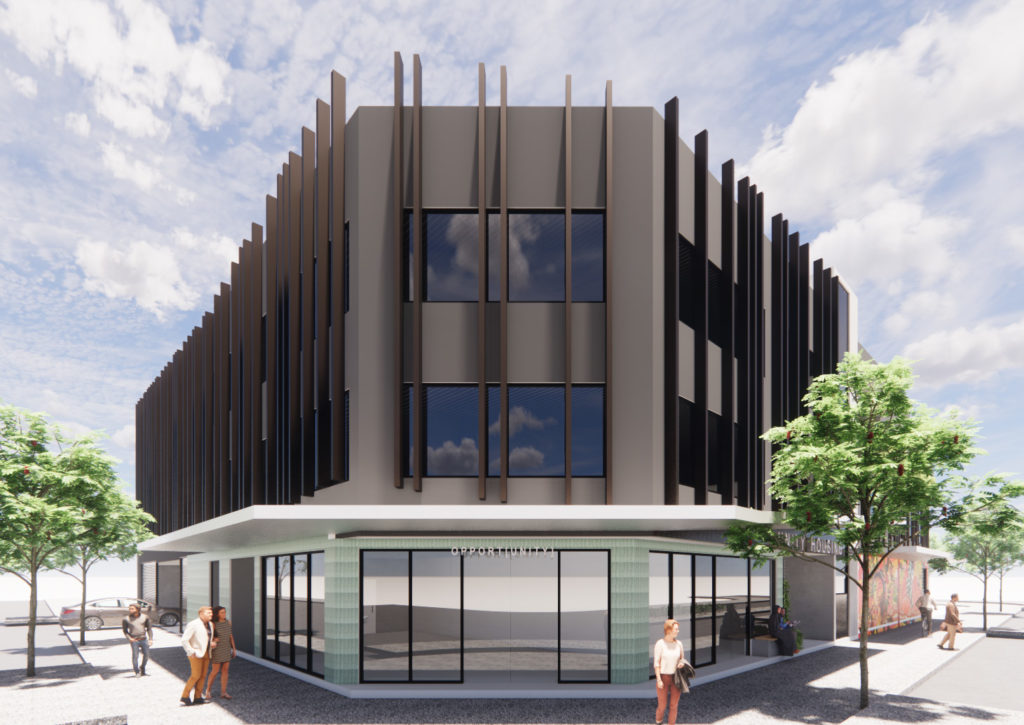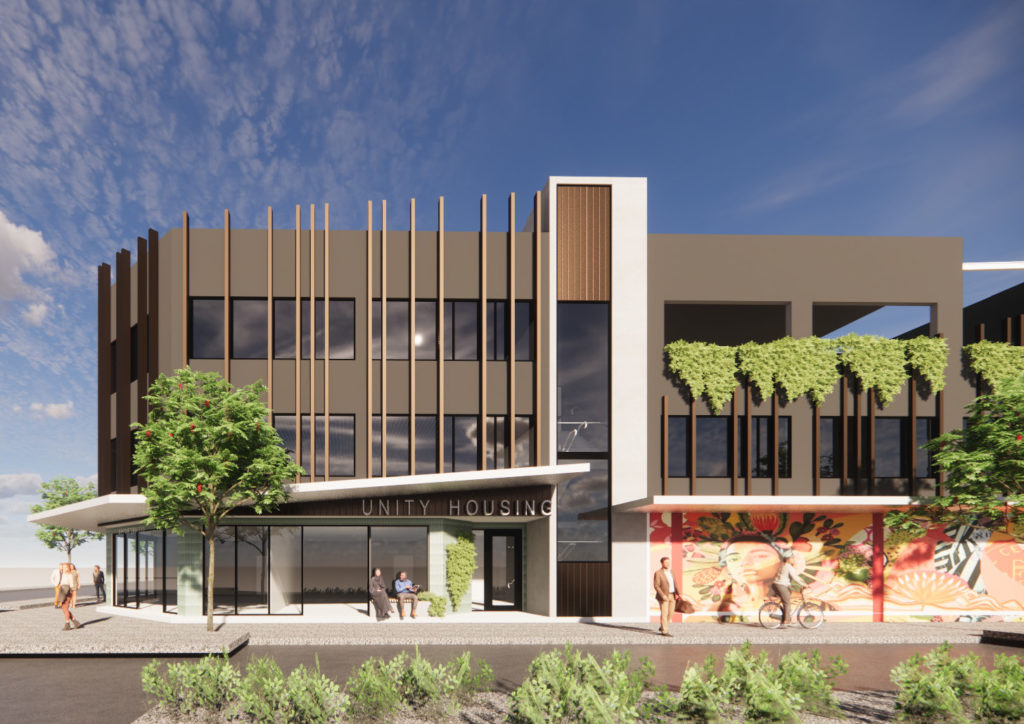 Images above: An artist's impression of the new office site at Bowden.