COVID-19 update

– 16 August 2021

From Monday 16 August 2021, Unity Housing offices are open to the public by appointment only until further notice (other than our boarding house office which remains open).

Please do not attend any Unity Housing office if you are feeling unwell. Please seek medical advice.

Face masks must be worn when attending Unity Housing offices.

For Tenants: our staff will maintain contact with you. If you need to make an appointment or need tenancy support, please contact your Housing Officer by phone or email.

Unity Housing continues to take our advice from SA Health and will ensure we follow their guidelines. Your health and safety are absolutely paramount.

From Monday 16 August, all South Australians aged 16 and over are eligible to book an appointment for COVID-19 vaccines.
The Pfizer vaccine is available for everyone 16 to 59 years of age.
The AstraZeneca vaccine is available for people aged 18 to 59 years. To get vaccinated with the AstraZeneca COVID-19 vaccine, people will need to make an informed decision by speaking with the vaccination provider at their appointment.
People aged 60 years and over will receive the AstraZeneca vaccine.
Bookings are essential at all SA Health vaccination clinics. Appointments are in high demand and more will be added as more vaccine becomes available. Bookings are available at sahealth.sa.gov.au/COVIDvaccine.
For more information, please call the SA COVID-19 Information Line on 1800 253 787 or visit  sahealth.sa.gov.au/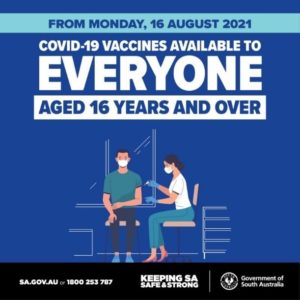 Stay safe and well,
Unity Housing