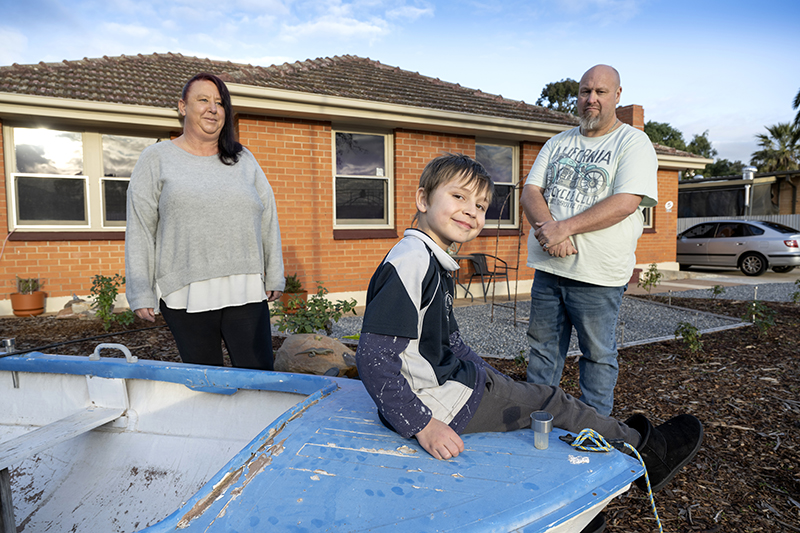 Since Rob and Sharon have lived in their Elizabeth Vale home, the front yard has been bare and the lawn has struggled to grow so Rob has made it his mission to transform it into something fun and interesting.
"Earlier this year Rob started looking on Facebook Marketplace and said he was going to decorate the yard and put a boat in," Sharon says. "When the council was knocking down all the trees across the road, Rob asked what were they doing with all the mulch and they were going to dump it so he took it. It filled the whole yard up." The only items Rob and Sharon have paid for are the gravel, the pond, some of the plants, and the motor for the boat; the rest Rob has sourced for free through Marketplace including the edging, rocks, statues, outdoor table and chairs, and a few of the plants.
"Even the boat was free – and it's a working one too!" Sharon says. "We've even got goldfish in the pond. Rob works on the yard every day." "I was a gardener for a council so I've got a lot of knowledge," Rob says.
"Everyone can have a nice yard, they just need to look for people who are throwing stuff out. This helps with my mental health and it's good if it can make someone else laugh and smile. You have to find that one thing that makes you happy, it doesn't matter what it is."When they're not at home working on the garden and spending time with their grandson Jacob, Rob and Sharon volunteer with the Animal Welfare League, where they have been for a number of years.
"I have been on the Disability Support Pension because of injuries from work and this helps me," Sharon says. "It's good to give back," Rob says.