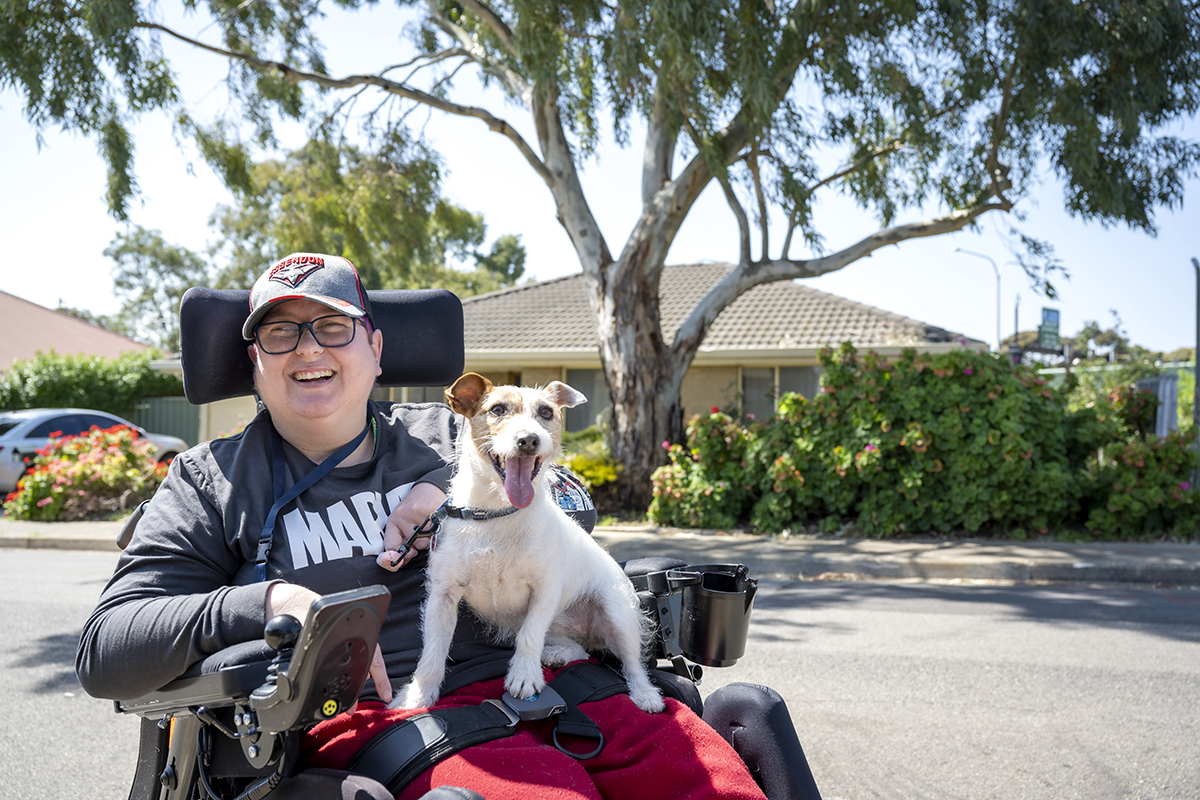 Living without limitations
Highlighting a key purpose of Unity Housing to create tenancies that promote independence within viable, sustainable communities, Alison (a south-side tenant since 2005) recently earned her bachelor's degree from Flinders University specialising in Media Arts.
Living by the code, "The only limitations are the limitations you put on yourself," she is the first person in her family to attend and graduate from university – something her family is
extremely proud of.
Having long enjoyed watching documentaries, Alison dedicated several years of her life towards learning the process of how to produce documentaries of her own. This is something she hopes to be more involved with in the future.
Now enjoying some time to reflect on her progress, Alison who was born with cerebral palsy has always been very independent, although she shares her world with Sky, her beloved 6-year-old Jack Russell who (almost) never leaves her side.
Meeting Alison for the first time, one thing you'll most likely notice right away is her vibrant personality and colourful hairstyles that she often changes. Despite being on a Disability Support Pension, she is keen to learn and contribute to the community. As anyone can see, Alison is someone who does not let obstacles stop her from achieving her goals. Some of her other interests include photography, supporting the Essendon Bombers, connecting with friends and family, and going to the beach when the weather is fine.
Alison's future plans include returning to study and working on a documentary film of her own.
Q&A
Q. What does Unity Housing mean to you?
A. It meant that I had the opportunity to move out of home. While I am the second oldest sibling born in-between my two sisters, I was the first to live independently. Now I have a safe place, somewhere to call my own, somewhere where I have complete control of my life with the support of Unity Housing.
Q. How long have you been with Unity Housing?
A. I have lived in my current home for just over 20 years. Management of my home was transferred to Unity Housing through a merger in 2008, when Unity Housing was set up.
Q. What type of Unity Housing property do you currently live in?
A. I live in a three-bedroom standalone house located in a quiet street, and close to shopping. I have a pleasant backyard which is perfect for my dog, Sky.
Q. How has Unity Housing helped to connect you with the community?
A. Being independent helped me to gain the confidence to go out into the community, build a support team and hang out with friends and family when it suits me. The convenient location is a huge bonus for which I am very grateful.
Q. What do you like about living in your neighbourhood?
A. It's a friendly neighbourhood where people do their own thing but step up when it matters and be there for each other. It is a quiet and friendly area where I can safely take my dog Sky for a walk.