Bob is dedicated to making a difference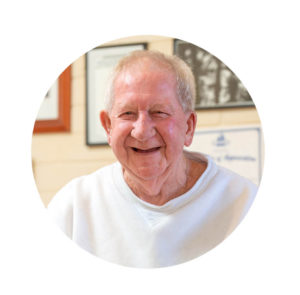 Bob's philosophy is simple: "Life really is what you make it and you will only get out of it what you put into it."
Bob walks the talk, which is evident from the myriad of certificates of appreciation and thank you cards scattered around his home – testament to a gentle giant who, with his calm yet jovial demeanour, energises and encourages people to find their purpose and make a difference, no matter how big or small.
Adopted into a hardworking South Australian family shortly after his birth, Bob developed his intrinsic values at a young age and credits his mother for his tenacity and work ethic.
At 18, Bob began a career in newspapers when he was accepted for a cadetship. "I worked with (Rupert) Murdoch when he had a newspaper on North Terrace called The News and that's where I started," Bob says. "I was there for three years then left and went to the Barossa to be the secretary of the family pub. When I didn't have anything else to do – which was not very often – I did external studies in mercantile law at the University of Adelaide and that's when I became interested in public service."
Bob left Adelaide for Sydney where he began his fruitful 23-year career in the community health sector, the latter part in Canberra.
Throwing himself into his work meant Bob's personal life was put on the back-burner. "I didn't get married until I was 37, I was a late starter," Bob says. "It was a good marriage. Eve was nearly 12 years younger, doing psychology, five languages; she was just clever."
Bob suffered an enormous loss in 1986 when Eve and their young son were killed in a car crash, after already losing their nine-month-old daughter to a serious medical condition. "Life can fire at you, rightly or wrongly, point blank," he says. "There are lots of obstacles in life. You can spend your life feeling sorry for yourself, and I know people who have done that."
Bob is not one to feel sorry for himself. He is a supreme optimist with an unquenchable faith in his ability to see the good in every situation and negotiate a way through stubborn problems. "I learnt a long time ago that my personality is conducive to people, particularly the under dogs," Bob says. "You have to have a purpose, it doesn't matter what it is but it's always got to be involved with community, coupled with the principle of self-help."
This attitude has enabled Bob to enjoy a fulfilling and rewarding retirement that he has used to make a significant difference to those less fortunate. Through his work with the government, an opportunity arose to adopt a small village up in the mountains of East Timor, only accessible by a donkey. "I knew I was going to retire so I said, 'I won't be bored in retirement, we can raise some funds'," Bob says. "I became involved in a network of private wine tasting clubs where I organised tastings for the sole purpose of raising funds for the village. We raised sufficient funds for various meaningful projects, including providing a generator for power at the village school."
For Bob, "the connecting link with people is very important". "I think friendship is very much a special key," he smiles. "Not friends for work or advantage, not even friends for play and leisure, but friends for living, fair dinkum. Warts and all."