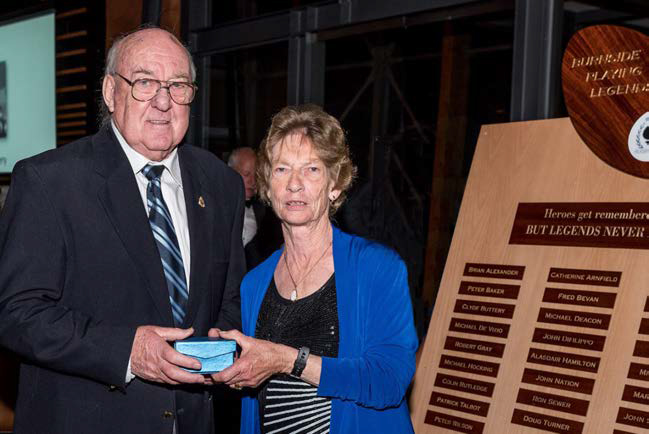 Born with a fighting spirit and an innate need to help others, retired SA Metropolitan Fire Service Commander Clyde has thrived in the face of many challenges and humbly improved the lives of countless people.
"I was doing an apprenticeship as a refrigeration mechanic and I would go home each night gasping from the gases we worked with," Clyde, 85, says. "I saw an article in the news about a fireman who had been lowered down a silver mine in Glen Osmond to search for a man who was missing. I said, 'That's what I want to do.' I was fortunate that a friend at our church was the Chief Electrician at the MFS and he helped me get an interview with the Deputy Chief and I got in when I turned 21. I served 30 years 11 months and 17 days, but nobody was counting. When you love your job you never go to work."
Clyde was instrumental in making substantial changes within the MFS. Through NDIS funding and a contribution from his family, Arron now has full wheelchair access to his new outdoor entertaining area which he proudly débuted with a family event in December. "Arron christened his new concrete area with a family event for his birthday," Arron's Mum Heather says. "We had perfect weather and it was wonderful to see Arron accessing his garden. He was very proud to show it off to his 92-year-old nana."
"We went from 56 hours a week to 40 hours plus two hours overtime," he says. "We got all the penalties we were entitled to and the brigade became self-managing. I worked very hard for improvements for people in the fire service and I still do. Another fellow and I do welfare work visiting people from the fire service who are injured or sick. We visit people to make sure they're okay. I'm a surrogate grandfather to a couple of kids here in Macclesfield whose grandfather lives interstate. We've built up a friendly coffee club here too. My philosophy is 'don't sit on your own, come and join us.'"
Clyde has enjoyed living a healthy and active life. He played more than 400 games for the Burnside Rugby Club and coached the club and several SA teams. He is a Fellow of the Royal Life Saving Society and was awarded the Queen Elizabeth II Silver Jubilee Medal in the late 1970s.
Clyde is a quiet achiever who's naturally propelled to helping anyone he can. "I love the whole lot and I'd do it all over again if I could," he says. "A teacher once told me, 'If you don't learn something new every day then you've wasted a day of your life.' I am studying a Master of Occupational Health and Safety Science so I can keep learning. I'm 85 going on 30."