Community Mural Project
Unity Housing manages a site at Marion in conjunction with two other partners: the South Australian Housing Authority, who owns the site, and Uniting SA, who provides social and tenancy support to the tenants.
Unity Housing is seeking expressions of interest from experienced artists to work with a group of project participants (tenants) to design and complete a mural art work at the Marion site.
The community mural project is an artwork initiative funded by the City of Marion, with Unity Housing fulfilling the role of lead project manager for this project.
Click here to read the artist brief.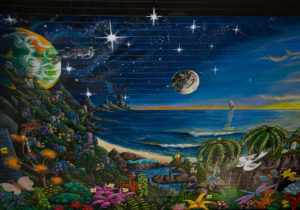 An existing mural at The Terrace Boarding House – South Terrace, Adelaide.